Make It! Create A Christmas Planner
Make It! Create A Christmas Planner
Cynthia Ewer
Tue, 09/30/2008 - 08:05
What's the secret to keeping the cheer in Christmas? A Christmas planner!
Command central for holiday planning, a Christmas planner is a dedicated, portable place to keep gift lists, menus, recipes and Christmas card lists.
Using a Christmas planner, you'll save time, cut stress and create the holiday of your dreams.
The Christmas planner concept is popping up everywhere. Scrapbookers make lavish lunchbox planners, while their stamping sisters embellish pocket planners. Notebook fans swear by their 3-ring Christmas binders, while PDA users swap databases for holiday planning.
Here at ChristmasPlanner.com, we gather the best tips, ideas and free printables to help you make your own Christmas planner.
Make a Christmas Planner to Simplify The Holidays
Why make your own Christmas planner? Because just like pantyhose, there's no such thing as "one size fits all" when it comes to preparing for Christmas. Packaged planner solutions often fall flat when it comes to real-world celebrations.
[adsense:300x250:4060694053]
Each of us brings a different spin and emphasis to holiday planning. A champion baker will include recipes, grocery lists and a detailed baking plan in her Christmas planner, while the neighborhood's decorations queen will boast a sheaf of lighting tips, craft instructions and detailed room-by-room decor plans.
A mother of young children collects ideas for family-friendly traditions, while a musical empty-nester plans her holiday schedule around cantatas and ballet performances--and by creating their own, each of them will have a Christmas planner custom-tailored to their values and preferences.
Better, creating your own D-I-Y Christmas planner allows it to grow with you and your family. From year to year, you'll reconfigure your Christmas planner according to your needs--and each year, your Christmas planner becomes more useful and more valuable.
With a multi-year Christmas planner, you'll recall favorite holiday recipes from years past--and be reminded which ones didn't make the grade. Gift lists are a treasure-trove of information to guide the current year's giving. A well-seasoned Christmas planner gets each year's preparations off to a flying start.
Ready? Follow the links below to create your own Christmas planner and simplify the holiday season!
One Size Fits All? Choose a Planner Format
One Size Fits All? Choose a Planner Format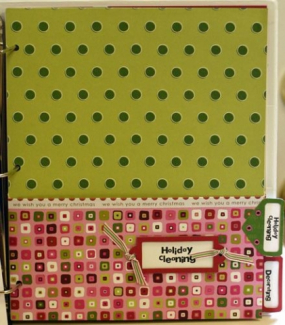 Cynthia Ewer
Tue, 03/25/2008 - 11:58
Like pantyhose, like life: there's no such thing as "one size fits all" when it comes to your Christmas planner!
What format will you choose for your personalized Christmas organizing tool?
Letter-Sized Binder or Notebook
Take a survey of online resources, and you'll find the standard letter-sized three-ring binder or notebook is the majority format for a Christmas planner.
Using a three-ring binder for your Christmas planner offers a lot of advantages. Binders, dividers and page protectors are widely available--and inexpensive. Most online printables are published as letter-sized, 8.5-by-11 pages.
The downside to letter-sized planners? Portability is a concern; it's hard to whip a heavy Christmas binder out for shopping trips or notes on the fly.
Then there's the appearance factor. While binders can be pretty--colorful papercrafting supplies come in letter format, make it easy to decorate your Christmas planner--they won't pack the eye-candy punch of a handcrafted lunchbox planner or custom notebook.
Still, for the majority of Christmas planners, a three-ring binder format is the most versatile, simplest choice.
Junior Binder or Notebook
If you're comfortable with creating your own planner pages (or resizing printables from the Web), a junior-sized 8.5-by-5.5 three-ring binder can solve the portability problem while offering the same freedom and flexibility of a standard-sized planner.
Junior-sized notebooks, dividers and page protectors are a bit harder to find; online sources make it easier to obtain them.
Those who downsize swear by the compromise!
Notebook Alternatives
Like the idea of a notebook, but looking for something with a bit more flash? Look into notebook alternatives like Circa-brand notebooks or Rollabind systems.
These sleek modern planners require a specialized punch--and can be pricey--but are as easy to use as a traditional three-ring notebook. They offer various sizes for your planner pleasure.
Index Card Files
Whether you're a devotee of Sidetracked Home Executives or the Hipster PDA, index cards offer a versatile, portable Christmas planner solution.
Integrating Christmas organizing into an ongoing index card management system is fairly simple, BUT you'll find very few printable resources available in 3-by-5 or 4-by-6 index card format.
Handmade Solutions: Christmas Lunchbox Planners and Christmas Pocket Planners
Creativity's your strong suit--and you can't imagine a Christmas planner without it? Check out creative solutions from papercrafters, scrapbookers and rubber stampers in our Tours and Tutorials section. You'll find a wealth of inspiration to create your one-of-a-kind tool for holiday planning.
Lunchbox Christmas planners are a luxe version of the index card file. Using a small-scale metal lunchbox, creative papercrafters embellish surfaces inside and out to create a pretty Christmas planner.
Hand-made dividers and index-card forms fill out the Christmas lunchbox planner, making Christmas organizing a sensory delight. It's a great solution for the crafty!
A simpler papercraft project, Christmas pocket planners are built upon a standard letter-sized two-pocket folder. Embellished with holiday-themed paper and stocked with custom-sized forms, a Christmas pocket planner offers pretty portability.
Supply List: Supplies for a Christmas Planner
Supply List: Supplies for a Christmas Planner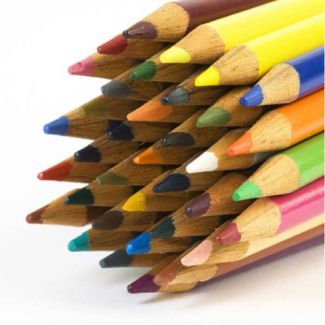 Cynthia Ewer
Tue, 03/25/2008 - 12:03
Making a Christmas planner can be as simple as tucking a stack of lined paper into a three-ring binder, but if you want to get the most out of this Christmas organizing tool, consider this list of supplies:
Three-ring binder or notebook (a clear-view binder is easy to decorate with a pretty cover and spine insert)
Divider pages to set apart sections of the Christmas planner
Lined paper for notes and lists
Free printable Christmas planner forms
Three-hole punch
Clear plastic page protectors to hold torn-out recipes, articles and printouts
Pocket pages for Christmas cards, printouts or extra forms
Large manila envelope for receipts
Post-It brand notes and flags
Zipper pencil case
Pencils, markers and highlighter
Money-Saving Tip: Stock Your Christmas Planner With Back-To-School Sales!
Back-to-school sales are the perfect place to find Christmas planner supplies at bargain prices--and the timing is right, too! Autumn's approach is the perfect time to begin planning for Christmas.
Divide and Conquer: Christmas Planner Dividers
Divide and Conquer: Christmas Planner Dividers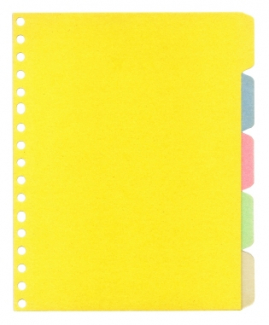 Cynthia Ewer
Tue, 03/25/2008 - 12:05
Dividers do the heavy lifting of organizing information in your Christmas planner. They enable instant access to any section in the Christmas planner, bringing information to your fingertips.
Give some thought to the sections you'll need to prepare for Christmas. Every family's needs are different, but most planners will contain these dividers:
Calendars
Budgets
Gift Lists
Receipts
Christmas Cards
Homekeeping
Meals and Menus
Parties and Entertaining
Recipes
Décor
Traditions and Celebrations
Other families add dividers for seasonal holidays, service projects, children's' activities, or personal sections for each family member.
Whether your holiday passion is decor, cooking, creative gift-giving, devotional activities or music performances, devote a divider to the things that matter most to you. Divider sections are the place to focus in on specific aspects of holiday planning.
Dividers are as unique and individual as the families they serve, so choose dividers that make sense for you. Here are some additional divider suggestions:
Thanksgiving
Advent
New Years'
Year-Round Holidays
Birthdays
Sale Flyers
Craft Projects
Christmas Baking
Cookie Collection
Recipes Tried and True
Recipes to Try
In the Freezer
Cleaning Calendar
Inspiration and Faith
Poems and Stories
Music and Carols
Movies and Books
Web Sites
Décor Room-by-Room
Ornaments
Collections
Storage
Christmas Past
Ready, Set, Punch! Set Up a Christmas Planner
Ready, Set, Punch! Set Up a Christmas Planner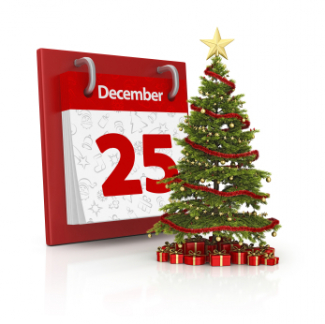 Cynthia Ewer
Tue, 03/25/2008 - 12:07
You've gathered all the raw materials for your Christmas planner: binder or notebook, dividers, paper, tools and supplies. Your printer's been humming for a couple of days, printing out planner forms, checklists and articles.
Now it's time to put it all together!
Set Up Your Christmas Planner
Give yourself an hour of uninterrupted time, an empty desk or tabletop, and some motivation in the form of music, coffee or a holiday movie.
To assemble your Christmas planner, start with the bones: the binder (or cardfile, lunchbox or pocket planner!), dividers, pockets and page protectors.
Place dividers into the planner. Most folks will need to put the Calendar divider at the front of the Christmas planner, because holiday calendars will be the most needed, most consulted pages.
Follow Calendars with dividers of your choice: Gift Lists, Christmas Cards, Budgets, Menus and Meals, Recipes, Traditions or any other specialty dividers you've chosen. At the back of the Christmas planner, include page protectors, pocket pages or a punched manila envelope to hold receipts. Other page protectors or pocket pages will hold printed articles, recipes or tearfiles.
File Planner Pages
Once dividers have a home, it's time to punch, sort and settle printable planner pages. Turn to your stash of pre-printed pages, sort them out and give them a home behind the appropriate divider.
Calendars line up behind the Calendars divider, while budget forms and shopping lists head for Budget. Gift lists, gift ideas planners and gift closet inventory forms head for Gift Lists, You'll need several copies of the Christmas Card list behind the Christmas Card divider, while Meals and Menus gets freezer inventory, pantry inventory, and holiday menu planner pages.
Where needed, add blank lined pages for notes or reminders.
Tool Time!
Once the filing is finished, turn to tools. Gather anything you'll need to work you plan, and find a way to keep them close.
Add a punched zipper pouch to the front of the binder to hold pens, pencils, sticky notes, stickers and tabs. In-binder storage options keep tools close at hand as you prepare for the holiday season.
File extra planner pages or blank lined paper in page protectors at the back of the binder. They'll be ready for notes, lists and checklists as you need them.
Cover Story
A final touch: decorate your Christmas planner with a printed cover page, family photos, stickers or pretty patterned paper. Embellish your Christmas planner your way, for a personalized touch.
You're done! Now to get organized for the holiday season!